So you have purchased some great seeds and you now want to grow some equally great plants.  Well nothing could be easier, just stick that seed in your pot and cover it with an inch of dirt and start watering it.  
Duh!  Nothing could be further from the truth.  
This would work great if you are planting beans but when it comes to marijuana it is a bit more involved.
Before you can plant a marijuana seed the seed actually needs to pop open.  There are a couple of methods that you can use to help you learn how to grow marijuana from seeds.  Whatever method you choose just remember in order for your seed to pop they are going to need two things moisture and warmth.
First Method
This method requires two plates, some paper towels and of course water.
Dampen your paper towels and place on plate.  Make sure to drain off any excess water.  Place your seeds on the moist paper towels.  Now using more damp paper towels place them over the seeds.  Again make sure to drain any excess water.  We want our seeds to be moist, we do not want to drown them.

Now you can cover this with another plate thus creating a wet dark environment for your seed.  Make sure you put your plates somewhere warm, warm being around 21C.
You can forgo the second plate but make sure you put your seeds somewhere dark like a closet.  Also make sure it is not a place where there is going to be a lot of traffic and lights coming on.
Second Method
The second method involves what is known as starter cubes.  You can buy these starter cubes which have a hole in them.  You place your seed in the hole, pinch the hole closed and then water as instructed.  These cubes give your seed the best possible conditions for them to sprout.
Third Method
I mentioned earlier about not drowning your seeds when trying to get them to pop open.  So this at first may seem to be a bit of a contradiction.  This method actually has you putting your seeds into a glass of warm water and soaking them overnight.  This method is often used when you have old seeds or seeds with very hard shells.  Do not leave the seeds in the water any longer than 32 hours.  If the seed has not opened up after this time transfer the seed to the wet paper method.
Since the seed is old and/or hard it may take longer to pop open.  Hopefully the warm bath will help your seed to get the kick-start it needs.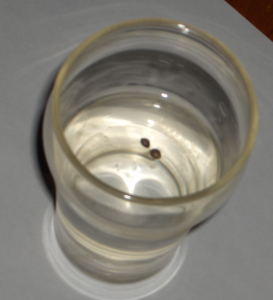 There are other methods that people use to get their seeds to pop open but these are the most common methods.  As with anything there are pros and cons to each of the above mentioned methods.
So your seeds have popped open now what?
Well now you have some options and hopefully you have prepared for this ahead of time.
When most people think about growing marijuana they think of growing the traditional way and that is in soil.  There are however different ways to grow marijuana and one of the ways is with no soil and another way is hydroponically.
For this article let's look at growing the traditional way with soil.  
Those that have grown a vegetable garden in the past are familiar with the term working the soil.  Certain plants need certain nutrients and marijuana is no different.  Before planting that popped seed make sure you have the right soil.
Soil Requirements For Growing Marijuana
Although we hear of the many great things about Miracle-Gro it is a big NO NO when it comes to your marijuana plant.  In fact any soil with extended release nutrients stay away from.
So you have a couple of choices.  First you can purchase soil and then add nutrients to it or you can purchase soil that has been prepared just right for growing marijuana or you can prepare your own super soil before planting.
Soil that is best suited for growing marijuana is soil that is rich in certain nutrients but soil also needs other things other than nutrients.  The soil needs to be of a certain texture.  You want your soil to be able to retain water to keep your plants moist but you also want the soil to have good drainage because you do not want to drown your plant.  If you were to take some soil in your hand you would want it to have a wetness to it but not be a sticky wetness like clay.  This almost reminds me of my grandma's recipe – a bit of this, a shake or two of that and two pinches of this.
OK back to the type of soil you need to grow your marijuana plant.  To find out what nutrients should be in the soil we should look at the actual plant and ask what does it need?  Your plant needs nitrogen, phosphorus, potassium, calcium, magnesium and sulfur.  It also needs oxygen, carbon and hydrogen which it gets from the air and water.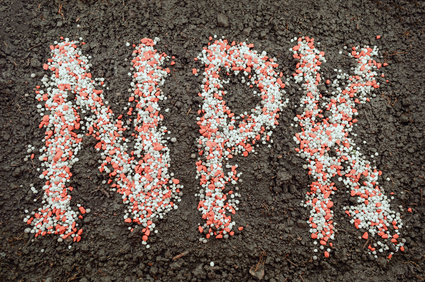 When you look at a bag of fertilizer you will see three numbers.  These numbers will indicate what the percentage of nitrogen, phosphorus and potassium are in the mixture.  They are always listed in the same order – N-P-K.  As far as the percentages go for your soil there should always be more nitrogen than the other two nutrients phosphorus and potassium.
There are many recipes online for making super soil to grow your marijuana in but one rule of thumb seems to be to have more nitrogen in the soil than phosphorus and potassium.
The following video I found to be very informative when it comes to what you should be mixing up for your marijuana grow soil.
Growing Stage
Once your seeds have popped and you have planted your seeds they are going to need light.  Your lights should be fairly close to your plants(about 4 inches)and then should be on between 16 to 18 hours a day.  As your plant grows you will need to adjust your light's height.  If you find that your plant seems to be lagging in the growth department you may need to lengthen the time of light exposure.
When watering at this delicate stage make sure you do not over water.  Using a spray bottle may help with that.  Also some growers feel that there may be too much chlorine in their tap water and feel this is not good for the plant.  Letting your tap water sit out may help the chlorine to dissipate.
Now that your little seedling has taken off, if you have planted it in a small pot it is time for you to transplant it to a bigger size pot.  Be careful when transplanting so you can avoid shocking the plant.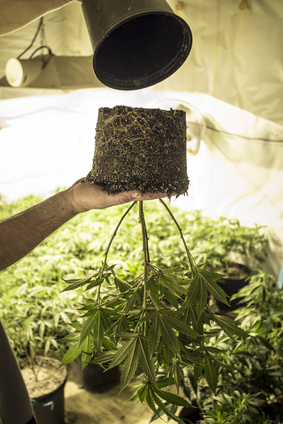 Your plant has now entered what is known as the  vegetative growth stage.  Once your plant is in this state it is going to need more water but still make sure not to over-water and kill your roots.  At this stage some growers will keep their lights on 24 hours.  You may see a difference in the growth of your plant in just a day so keep a sharp eye on your lights.  You do not want to burn your plants.
Other things to be aware of is the temperature of the room.  Although cannabis can survive in lower temperature maintaining a temperature around 75F would be ideal.
Your plants also need air.  You could open a window for a few minutes unless you are experiencing winter weather, then a fan or fans will do the trick.
The next phase for your plant is the flowering phase.  To start this phase of your plants you need to adjust your lights to 12 hours on and 12 hours off.  It is very important that when the lights are off that no light gets in for the 12 hours.  Even the light of a flashlight can have an affect on the plants.
The time has arrived for your plant to be harvested.  It is not always apparent when you should harvest but if you notice a decrease in the production of the flowers then it is time to reap what you have sown.
Learning how to grow marijuana from seeds can take some time.  When you are dealing with so many variables things can sometimes go wrong.  For  every 100 people that have grown marijuana there are 100 different opinions on how to do it.  Just get in there and get your hands dirty.  Happy growing!  To learn more about growing weed download the following book.
Share This: