So you are lucky enough to live in a climate where you can grow your own marijuana outside. Just like anything you will need to learn just how to grow marijuana outside so you can successfully get a crop.
Your goal will be to get some high producing plants that will give you a spectacular yield. You want a big enough crop to last you for a while.

So what do you need to do to prepare for your own outdoor grow?
Preparation For Growing Marijuana Outdoors
The first thing you need to do is decide whether you will be planting directly in the soil or are you going to be putting them in pots outside. As you may have guessed there are pros and cons to both of these methods. Let's take a look at what you need to grow your own marijuana plants outside directly in the soil.
The first thing you need to consider is the climate. Is it warm enough? Do you have enough sunlight in the day?
Next you need to find out how good is the soil. Do you need to add nutrients to the soil in preparation of growing your own plants? What type of nutrients do you need to add?
Should you grow from seeds or clones?
I am sure there are other things to take into consideration but let's look at these things first.
How Does Sunlight Affect Your Marijuana Plant
Sunlight or light is crucial to the life of your own marijuana plant. It is often said that the more sunlight a plant gets the bigger yield you will get. The first thing that starts to grow on your own marijuana plant are the stems and leaves. These stems and leaves take in more sunlight which aids in the growth of your own plant.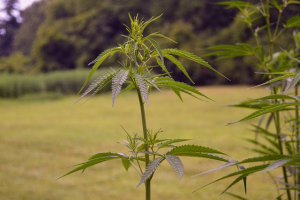 You will need to look for a place that is going to get a lot of sunlight during the daytime hours. Also you will need to find a place that is protected from bad weather such as high winds. Your plant should be exposed to at least five hours of direct sun and another five of indirect sun.
You often see on cop shows where they go into the woods looking for marijuana plants that someone is growing illegally. This would be the worst place to try to grow your own marijuana plants. They would literally be fighting for their lives as they try to get the sunlight that they desperately need to survive. The tall trees that they are surrounded by would be blocking the much-needed sunlight.
When you first start to grow marijuana if you are unsure where to plant you might try a couple of different locations and see which one is better for future grows.
When you are growing outside directly in the soil your own plant can become quite tall so you might want to plant in a location that is not too visible to other people.
Next we should take a look at what your own soil needs to help with a successful grow.
What Makes Good Growing Soil For Your Marijuana Plant
There are other mediums to grow marijuana plants in but soil seems to be the favourite. For one thing most people are familiar with soil. At one time most of us have had a vegetable garden so we are familiar with how things grow in soil. Another factor is the cost. Soil is much cheaper than some other alternatives available.
So since we are growing outside in the soil we should first test our soil and check on the quality of the soil.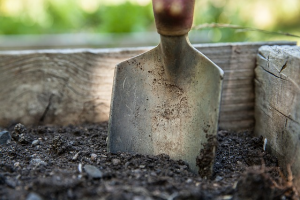 Marijuana can grow in almost any type of soil. That being said if you are looking for plants that are high in THC you are going to need a well-balanced soil of nutrients and acid levels. It is easy and relatively inexpensive to have your own soil tested. Knowing what your own soil needs will enable you to mix up the appropriate nutrients that will give you a bountiful yield.
The soil needed to grow marijuana needs to be rich with organic matter, well drained and slightly acidic. If your own soil does not meet these standards then you need to bring your own soil up to what is needed.
How does one add the proper nutrients to their soil?
The best way to achieve good soil is to dig a relatively big hole and then add the good soil into the hole. You can buy pre-made soil to fill the holes or you can make your own own "super soil". Check out the following video. 
You need to prepare this soil ahead of time since after mixing it up you will need to let it sit for 28 days before you can use it.
Although making a batch of super soil is a little more expensive than just adding nutrients to your own soil it is also a surefire way to get the best possible soil for your own grow.
Now that you have your own spot picked out and your own soil ready to go and your own plants are planted and starting to grow the next thing you need to worry about it watering.
How Much Water Does Your Cannabis Plant Need?
A plant that is planted directly in the soil won't need to be watered as much as a plant in a pot. The earth will hold the moisture and won't dry out like it will in a pot. Also it has the added benefit from rainwater and groundwater. You can't however depend totally on Mother Nature to water your own plants. You may be hit by dry hot weather so you will need to water your own plants.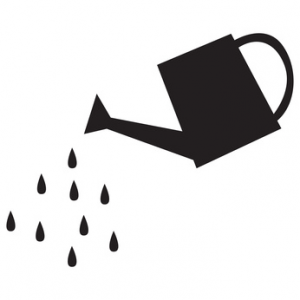 Cannabis plants can need up to 10 gallons of water a day so you need to be checking on your own plants. Over-watering is a common mistake made by many first time growers. A meter to check the moisture content of your own soil is an inexpensive tool that may come in handy. The other way to check is to stick your own finger in the soil. After sticking your finger in the soil you discover the top inch has dried out it is time to water again.
Another factor that you need to deal with when you are growing your own marijuana outside directly in the soil is pests.
The Fight Against Pests
One thing that you can do is plant your own marijuana plants away from other plants that you have. Any pests that are attracted to your own other plants will quickly move over to your own cannabis plants infecting them as well. Some pests are easier to protect against then others. You can erect some type of barrier to keep wildlife like deer, dogs, cats etc. away from your own plants. Other pest may be a bit more difficult.
One way to fight off pests is through companion planting. Certain plants will deter pests, for example, dill is great for keeping away the dreaded spider mite, while coriander also repels spider mites along with aphids and potato beetles.
You can also you an insecticide to fight off pests. If you use this method make sure the insecticide you are using is organic.
There is so much more to learn to help you grow cannabis outdoors. The best way is to just get in there and get your own hands dirty and also you can download the following guide.
Share This: