We know there are various ways to grow marijuana. You can grow using soil or no soil, you can grow hydroponically or aeroponically.   All these ways to grow marijuana started with a seed. Another method that serious growers will often use is growing marijuana from clones.
What Is Cloning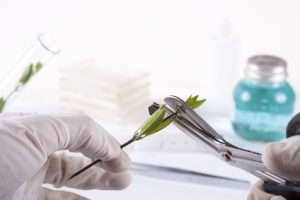 Cloning a plant is basically taking a cutting from a plant and growing a plant from that cutting.   If you are successful the cloned plant will have the same genetic makeup as the one you took the cutting from. This plant is often called the mother plant.
A plant that we are all familiar with and one that clones on its own is the strawberry plant. The strawberry sends out what we refer to as a runner but it is actually a stem from the plant. When this modified stem takes root, you end up with a plant that has the same genetic makeup as the original strawberry plant or a clone.
There are other plants that clone themselves also but what about those that do not clone themselves? That's when we step in and take over the cloning.
How To Clone Your Marijuana Plant
There are a couple of methods that people use when they are trying to clone a plant. The easiest way to clone a plant is to take a cutting from the mother plant. Make sure to cut off excessive leaves or flowers from the base of the cutting. By doing this you prevent the excessive foliage from using up all the water which may slow down the plant from rooting or prevent the plant from rooting at all. Once your cutting is ready you can just stick it in some water. I usually use a clear glass so I can see when the roots start to appear without disturbing the plant.
Keep the cutting in a warm area that does get some sunlight but make sure it does not get too much sunlight as that just might kill your cutting.
Another way to clone your plant is to put your cutting right in the soil. Well we all know it really is not that simple. Using these methods does require you to have a few materials. You will need a container to hold your clone, soil or rock wool, root hormone(optional), water and a plastic or glass cover.
When growing marijuana from seeds it is best to use potting soil or composted soil.  Your choice for a container will depend on a couple of things. Are you going to grow the plant in this container or will you be transplanting to a larger container? If you are going to grow the plant in this container than make sure your container is large enough. If you will be transplanting later than a simple plastic clear cup will do just fine. By using a clear cup you can see when the roots start to appear.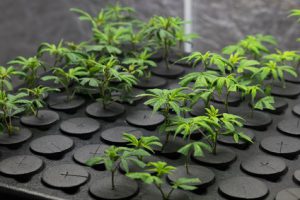 Root hormone use is optional. Root hormone contains synthetic auxin. Auxin is a hormone found in plants that actually signals to the plant whether it should grow more roots or leaves. By using the root hormone the plant gets the signal to grow more roots.
Root hormone may contain fungicides and chemicals which is not considered environmentally friendly, so because of that many organic farmers will not use root hormone.
For those of you that do use root hormone make sure you do not just dip your cutting into your jar of hormone. By just taking what you need out of the jar and applying it to the cutting could help save you from contaminating the whole jar of root hormone.
So now that we have all our materials ready to go the first thing we are going to do is fill our container with soil and then in the center we are going to poke a hole right to the bottom of the container. Then water the soil but don't drown it. Next you need to prepare your cutting from the mother plant. Prepare it the same way as explained above.
The next step would be to apply the root hormone if you are going to use it, then put about one third of the cutting into the hole in the soil.
Finally, cover with plastic. Keeping the plant covered will help to retain moisture which the cutting is going to need in order to establish roots. You still need to water every day just make sure you do not drown your cutting. Also make sure your cutting gets some sun every day but not direct sun all day long.
Your cutting should establish roots within a week or two.
So you have to wonder what, if any, advantage is there to cloning?
Advantages Of Cloning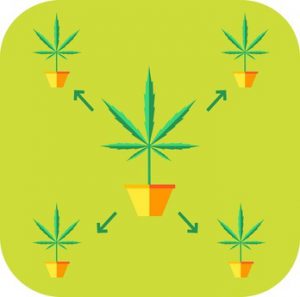 There are some advantages of growing marijuana from clones versus seeds. First off if your cutting takes and all goes well you know what you are getting. There is no need to worry whether this is going to be a male or a female plant. Whatever the mother plant was is now what your new plant is.
Some plants may be difficult to grow from seeds. You can actually mass produce using cloning.
You can save plants that may be endangered through cloning.
All the plants are genetically the same.
Plants can be grown any time of the year.
The most desired characteristics of the plant are reproduced.
Disadvantages Of Cloning
It can be expensive and it does require a more hands on approach compared to planting a seed.  Since the clones have the same genetic makeup they are susceptible to the same diseases and environmental factors.
There is no genetic variation at all.  Although this may be what we want it can be a disadvantage if the cloned plant is affected by some sort of disease. Since all the plants share the identical genetic makeup, all the plants would be affected.
When genetic diversity is lost so is the plants genetic flexibility meaning the plant will not be able to adapt to changes that may be happening in the environment.
Cloning can actually cause sterility and if for some unforeseen changes, diseases or pests, a sterile cloned plant gets wiped out there is no way to get that plant back.
Final Thoughts
Although growing marijuana from seeds has always been my preferred method there is definitely some great advantages to cloning. It may be a method worth exploring again.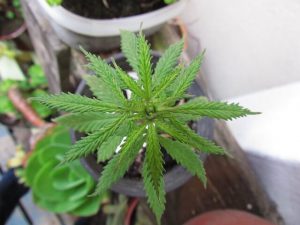 I hope you enjoyed this post and I would love to hear about your growing experiences.
Share This: