One of the advantages of growing marijuana indoors is that you do not have to worry about those nasty outdoor marijuana pests.  Plants grown outside have more exposure to pests that will harm them then do plants grown inside.  Beware though indoor plants can still pick up some pests that may come in from outside on your clothing.  So do be careful.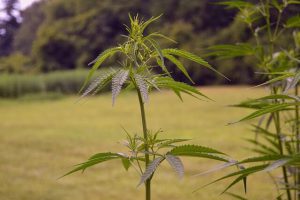 So what type of pests can harm your marijuana plant?  Following is a list of potentially dangerous pests that can harm your marijuana plant directly or indirectly.
| | | |
| --- | --- | --- |
| Ants | Aphids | Barnacles |
| Birds | Broad Mites | Caterpillars |
| Cats | Cutworms | Crickets |
| Deer | Dogs | Fungus gnats |
| Gophers | Grasshoppers | Inchworms |
| Leaf Miner | Mealy Bugs | Mice |
| Moles | Rats | Russet Mites |
| Scale Insects | Snails | Slugs |
| Spider Mites | Thrips | Whiteflies |
As you look at the list above you can see that some of these pest you can keep away from your plants like dogs, cats and deer.  As far as rats and mice you could set traps around your plants so they won't be able to get at your plants.
So let's take a look at three of what may be considered the most troublesome outdoor marijuana pests.  
Mealy Bugs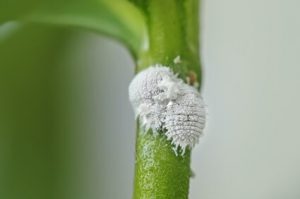 First up we have the mealy bug.  These white hairy looking bugs grow to the size of a human fingernail and they love the warmth.  The male has wings and the female does not.  Mealy bugs also have a protective cover which protects them from insecticides and other insects.  This waxy substance also protects their eggs and the young nymphs.  
They do damage by sucking the juice out of the plant.  Over time the leaves on the plant will start to turn yellow and eventually fall off the plant.  Another way they do damage is by secreting what we call sugary honeydew.  This honeydew can help to grow a fungus called sooty mold.
Mealy Bugs can reproduce several times in a year.  It is interesting to note that the male mealybug does not feed he exists only to reproduce.
How Do We Eradicate Mealybugs?
Mealybugs do have natural enemies such as ladybugs and wasps.  You can buy these natural mealybug predators or you can plant certain plants that will attract the wasps and the ladybugs.  This is commonly known as companion planting.  Many people when planting their vegetable gardens will plant flowers such as marigolds.  Marigolds attract bees which we all know are good for the garden.  They also are able to deter bugs that will attack your garden vegetables.  Their scent helps mask the scent of your garden plants therefore pests go and look somewhere else.
If you find that your plants do have mealy bugs you can gently spray water on them as a stream of water will help to wash them away.  Once they are off the plant it might be a good idea to actually kill them so they won't just get back on your plant.
If a part of your plant is badly infested with the mealy bugs you may be better off to just remove that part of the plant.
You can also pick the bugs off the plant with a mixture of water and alcohol.  You can mix one part water to one part alcohol.
You can also use insecticides but make sure they are organic such as neem oil.  Hopefully you will not have to deal with these pesky pests.
Spider Mites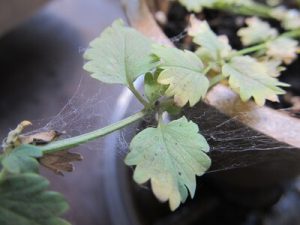 Our next pest that makes the top three list has to be spider mites.  We got these on some small trees this past summer and they were definitely a challenge to get rid of.
Spider mites are tiny measuring only .04 inches but they can do a lot of damage and they are hard to get rid of.  Their eggs can hatch in 3 days and they are sexually active in 5 days.  They can lay up to 20 eggs a day and have a lifespan of 2 to 4 weeks.  They will feed on a wide variety of different plants.  In fact they will feed on several hundred different species of plants.
They are hard to spot at first since they hang out on the underside of the leaves of the plant.  They will puncture the leaves in order to feed thus causing damage to the plant.  They become more noticeable when they start to spin protective webs.
How To Eradicate Spider Mites
Since spider mites reproduce quickly they have adapted at resisting pesticides so treating them chemically can be a losing battle.  Since we are talking about outside pests, we can rid them with natural predators of the spider mites.  Ladybugs and predatory mites will eat spider mites thus taking care of an infestation.  You can actually buy ladybugs online and have them delivered right to your door.  Hopefully when you release them they will hang around and feast on your spider mites.
Another method that helps is the application of insecticidal soap.  YOu can buy it or you can make your own out of certain household soaps.  The problem with this method is that it also kills predatory mites so it is up to you whether to use this method or not.
You can also apply Harpin Alpha Beta which is a protein that helps stimulate the natural defenses of the plant.  After an application of HAB the plant starts to restore its sap sugar levels and starts to replace the damage done by the mites.
Since they do reproduce so rapidly whatever method you choose will have to be done more than once.  For the size of them they are a hardy little pest.
Our next pest to make our list is the following.
Aphids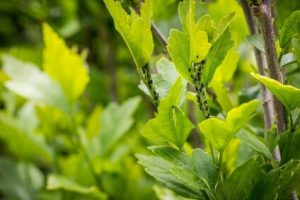 Aphids are a two time threat.  They cause damage on their own plus they attract other pests that will also do damage.  These small winged bugs can be found underneath the leaves of the cannabis plant.  Your plant can become infested rather quickly since these Aphids reproduce at a very rapid rate – giving birth up to 12 times a day.  The leaves on the marijuana plant will start to wilt and turn yellow after the aphids start consuming nutrients from the plant.
As well as damaging the plant themselves their feces attract ants which creates an even bigger infestation problem.
How To Deal With An Aphids Infestation
Once you determine that your plant is being attacked by aphids you can look to Mother Nature to help with the problem.  Ladybugs and parasitic wasps can help and these can actually be bought online.   If you do not want to wait for your order you can mix up a solution of distilled white vinegar and water.  Fill 1/3rd of a spray bottle with distilled white vinegar and top off with water. This will kill the aphids and their larvae on contact.
You can also fill a spray bottle with warm water and add 2 tsp of a mild dish soap and spray under the leaves where the aphids are usually hanging out.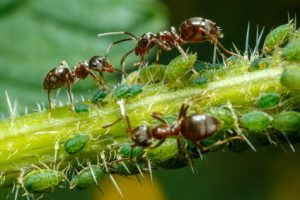 Also since these plants are outside you can wash the bugs off the plant with your garden hose.  This method may damage young fragile plants so in that case you may be better just to pick them off and throw them in a container of soap and water.  The soap and water will kill them.
There are many more pests out there that can do harm to your plants so you need to be ever vigilant.  Make sure you are checking your plants every day.  An infestation of any of these pests can destroy your plant and you will be left with nothing.
I hope you found some useful information in this article.  
Have you ever had to deal with a pest infestation?  If so how did you treat it?  Everyone has different methods and I would love to hear about yours.
Share This: